How it works
You can complete your miles at any time in March! How and where is completely up to you, which means the event can be adjusted to your own personal challenge – walk 10 miles in one day, spread it across the month or beat your personal best by running 10 miles. Demand for our services remains high and by taking part in March in March, you will help raise funds for our specialist mental health treatment.
Register
Get started by registering for free today, as an individual or as a team. It's free to take part and you will automatically be set up with a fundraising page. All fundraisers who raise £20 or more will receive a March in March medal.
Go the distance
Walk, run, roll and complete your 10 miles in one go, or over the month – the choice is yours. Record your miles using a fitness tracker app or enter them onto your fundraising page manually.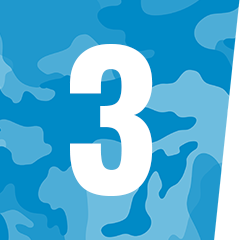 Raise vital funds
Share your fundraising page and spread the word! Get your family and friends to sponsor your challenge and raise vital funds in support of veterans' mental health.
Briony Beattie just donated

£106
ORGANISE A GROUP WALK
Walking outdoors provides a great boost to your mental health, and it's even better when shared with friends. This March in March why not organise your own group walk and tackle the 10 miles together?

Find out more
Connect with our March in March community
#MarchinMarch
@combatstress
Sharing your 10 miles on Facebook, Twitter and Instagram are all great ways to let everyone know you're taking part in March in March so they can support you and we can thank you.
Be a part of our community and use the hashtag #MarchinMarch @CombatStress. We always love to see what our amazing fundraisers get up to!