Sign up for free today and you will automatically be set up with a fundraising page on registration. Join the challenge Facebook group for all the support and encouragement you need from fellow Marathon in a Month fundraisers!
Go the distance
Choose to complete your 26.2 miles all in one, over the month of November or split your miles as a team. Record your miles manually or by connecting your fitness tracker to your fundraising page.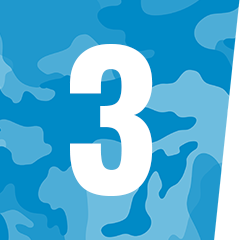 Raise vital funds
Share your fundraising page to spread the word! Get your family and friends to sponsor your challenge and raise vital funds in support of veterans' mental health.
How it works
Sign-up for free and complete your marathon during November in support of veterans' mental health. All fundraisers who raise over £20 will receive a Marathon in a Month finishers' medal and those who raise £150 will receive a Combat Stress technical t-shirt!
No matter your fitness level, this is an event for everyone - complete your challenge in one day, over a week or clock up your miles between 01 and 30 November. You can create a team to complete your marathon with friends – however you wish, this challenge is done your way.
By taking part you will have access to an amazing Facebook support group to connect with fellow supporters.
We have a range of branded items on offer when you reach fundraising milestones! Don't forget to update your fundraising page with your photo and your personal reasons for supporting us, then share it with friends, family and colleagues.
Fundraising pages with the personal touch raise more, so keep updating your blog with your progress and you'll be sporting your technical T-shirt before you know it!

Keep a look out for our Marathon in a Month medal reveal in mid November!
RAISE £20
to receive your Marathon in a Month medal
RAISE £150
to receive your Combat Stress technical T-shirt
RAISE £250
to receive your Combat Stress
bobble hat
RAISE £500
to receive your extra-cosy
Combat Stress hoodie
Connect with our Marathon in a Month Community
#MarathoninaMonth
@combatstress
Join our Marathon in a Month Facebook group to connect with fellow fundraisers taking on this amazing challenge, it's a wonderful community where you can share your photos and show your support for each other. Remember to share your fundraiser on your own Facebook timeline, Twitter and Instagram to let your friends and family know what you're up to - keeping them updated with your progress is the key to successful fundraising. Don't forget to use the hashtag #MarathoninaMonth
What is the Facebook Group for and how do I join?
We encourage all Marathon in a Month participants to join the Facebook Group.
This is a fantastic group for participants to communicate with one another, share their Marathon in a Month journey and support others taking on the challenge.
Click here to join the Facebook Group.
How do I upload photos and videos to the Facebook group? 
To share a photo or video on the group click on 'write something' to type your message, there will also be an icon of a photo, click on that and you will be able to select a photo from your library to include. We absolutely love to hear how you are all getting on so please do share, share away in the group! 
Can I create a Team Fundraising Page?
Yes!
Creating a team fundraising page is a great way to collect funds. Through your Combat Stress fundraising page, you will have the option to create a team fundraising page which members can join.  
All team members' individual fundraising efforts will pool into the team fundraising total.
How do I record my miles? 
You can connect your fitness tracker (Strava, fitbit, Map My Fitness) to your fundraising page or you can add your miles manually to your fundraising page! We also have a printable tracker in the resources section.
You can keep track of your miles however you like, have a chat with other fundraisers in the Facebook Group and see how they're recording theirs.  
Can I complete my miles in one go?
Of course, you can!  This is a virtual challenge done your way.
Supporters can complete their miles all in one, spread them across a couple of days or complete their miles throughout November. The choice is yours.
When will I receive my medal? 
All participants who raise £20 or more will receive a Marathon in a Month finishers' medal. Medals will be sent out week commencing 4th December.
What's the best way to smash my fundraising target? 
Share, share, share! Share your progress, share your photos but more importantly, share your fundraising page. We also have handy pre-written social media posts and emails to make sharing your fundraising page simple. The more you share, the more people will see it and the quicker you'll reach your fundraising goal! People often need reminding 2 or 3 times before making a donation, so don't be afraid to shout out about your challenge!
Will I receive a running top?
Anyone who raises £150+ will be sent a Combat Stress branded technical t-shirt. Rewards are sent out weekly and take 5-6 working days to arrive.
Do I need to provide evidence to Combat Stress that I've completed my miles? 
No, we trust you!  You don't need to send us evidence to prove you've completed the challenge.  We do recommend that you update the fitness section on your fundraising page and share your progress with a post on your social media accounts - friends and family will want to know how you're getting on!  
We recommend sharing photos and videos of you doing your miles and please also share them with the group as we'd love to see as many of your pics and films as possible.
Can I raise money using a sponsorship form? 
We'd prefer you to raise money online, but if that's not possible our sponsorship form is available from the media tab in the Facebook group, alternatively email us at challenges@combatstress.org.uk or call 01372 587 140 and we'll send you one. 
How do I pay in any cash or cheques I've collected? 
You can pay your offline donations into our bank account: Combat Stress / 60-00-01 / 00100013. Please use your surname and MinaM as the reference and let us know you've made the payment by emailing challenges@combatstress.org.uk
Please remember to post your sponsorship form, with a note stating your name and challenge to: 
Combat Stress 
Fundraising Department 
Tyrwhitt House 
Oaklawn Road 
Leatherhead 
Surrey 
KT22 0BX 
If you would prefer to pay by cheque, please include that with your sponsorship form and mail it to the address above.
Or you can call the office on 01372 587 140 and make a donation over the phone between 9.30 – 3pm Monday to Friday.  
Do I have to be over 18 to join the challenge? 
Under 18s are welcome, although you have to be over 14 to join the Facebook Group.  If you are under 14 and want to take part, get your parent or guardian to join the group and set up your fundraising page here.
My question's not been answered in the FAQs? 
Thank you for your interest in Marathon in a Month
.
We look forward to hearing from you. To get in touch, please contact challenges@combatstress.org.uk.
Y
ou can also fill out this form and someone in
the team will get back you to.
Connect With Marathon in a Month
Online: