Join us for our



The Santa Splash brings our community together to make a splash for veterans' mental health.

Simply pop on your swimming costume and a Santa hat and take the plunge in our cold water challenge! By braving the cold, you'll help raise awareness and funds for our life-changing mental health treatment.

You can take on the challenge in your local area on any day between 1-31 December or join us at our live event on 10 December at Papercourt Sailing Club, Ripley, Surrey.

Register today and help smash the stigma of mental health!
make a splash for veteran's mental health
REGISTER
Choose to brace the cold solo, with family and friends or at our live Santa Splash.

Virtual Santa Splash: FREE
Physical Event: £20 reg fee

Please see below for further details on how to take part virtually and event details for our Santa Splash at Papercourt Sailing Club.
TAKE THE PLUNGE
How and where you take on your cold water challenge is up to you. You may choose to take ice baths daily, visit your local lido, enjoy a chilly dip in the sea or join our Santa Splash at Papercourt Sailing Club.

However you choose to take part, be sure to stay safe and follow our safety guidelines.
RAISE VITAL FUNDS
There is no fundraising minimum for this challenge but this is a charity event and we encourage our Santas to raise as much as they can in support of veterans' mental health. Share your fundraising page and spread the word!

We also encourage everyone to take a snap or video of their cold water challenge and #SantaSplash to help spread the word and feature on our homepage.
Live Event Information
Join us at our live event and take on your cold water challenge with the support of professional cold water coaches. You'll be joined by other Santas and we'll be there to guide you and to cheer you on!

When: 8-10am, Sunday 10 December 2023. Event sign in 8:30am.

Where: Papercourt Sailing Club, GU23 6JX
What: Cold water dip
Registration fee: £20 (incudes a Santa hat)
Suggested fundraising target: £150
Family and friends are welcome to join and there will be hot drinks available to warm our Santas up.
Make a splash for veterans' mental health your way. Visit your local lido, take ice baths daily, enjoy a chilly dip in the sea or have cold showers for the month! However you choose to take part, by braving the cold your support will make a life changing difference to the veterans we support.

Taking part in the Santa Splash is also a great way to give your mental health a boost as cold water swimming has been proven to lower the levels of stress. With no fitness level required, this is an event for everyone. It's free to register and each participant who donates £5 on registration will receive a Santa hat.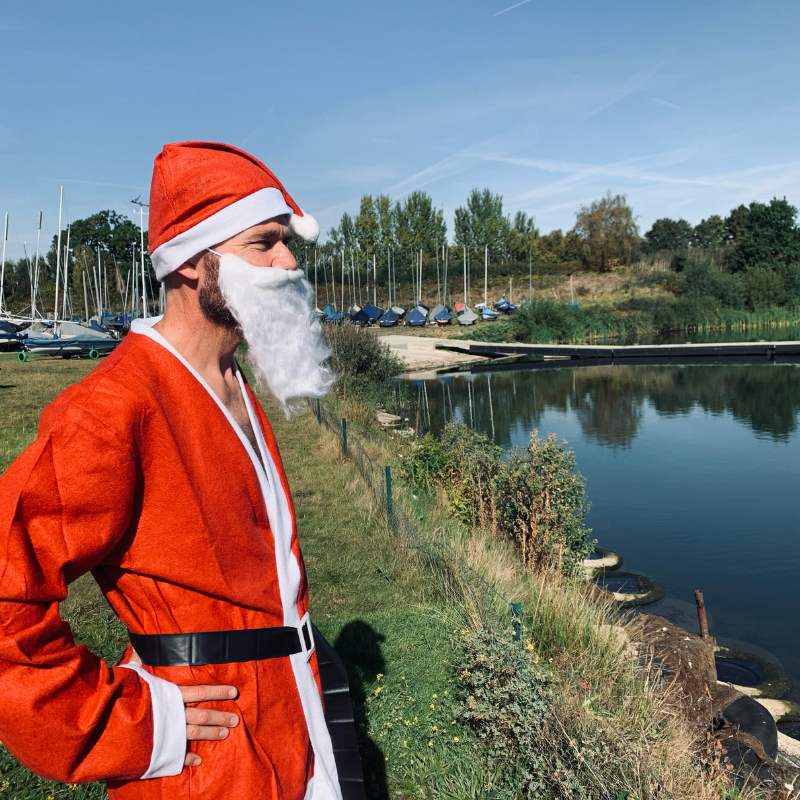 All virtual participants are responsible for their own health and safety. Please make sure you follow our safety guidelines and stay safe when completing your Santa Splash.
can you do the full santa?


| | |
| --- | --- |
| Immersion Level | Up to where on body |
| Mistle'toes | Feet |
| Nutcrackers | Waist |
| Jinglebells | Chest |
| The Full Santa | Head under |
Take a snap
We encourage everyone taking part to document their achievement and nominate a friend to join in!

Take a photo or video after completing your cold water challenge to raise awareness and help smash the stigma of mental health.

"I've braved the cold for Combat Stress. Now it's your turn..."

#SantaSplash @CombatStress


safety guidelines and cold water swimming advice
We have a number of videos put together by cold water swimming coaches Jude Palmer and Paul Mackenzie on how to complete your Santa Splash safely.

We strongly encourage all participants taking part in both the virtual and physical event to watch these and read our FAQs and Safety Guidelines before taking part.
We encourage all participants joining us at Papercourt Sailing Club to aim to raise £150. This helps to cover the event costs but, more importantly, the funds and awareness you raise from your Santa Splash will help us provide life changing treatment to the veterans who turn to us. For those taking part virtually, we ask you raise as much as you can!

We feel you should be rewarded for your efforts, so why not try to collect our Santa Splash rewards? We will send out rewards at the start of each week starting from 20 November.
How many rewards can you collect along the way?

Raise £100
To receive your Combat Stress neck buff

Raise £375
To receive your Combat Stress travel mug
Raise £500
To receive your Combat Stress bobble hat
Santa hat
All participants who register for our Papercourt Sailing Club Santa Splash will be given a Santa hat on the day.

If you are taking part virtually, by kickstarting your fundraising with a £5 donation you will be sent a Santa hat on registration.
Connect with our Santa Splash community
#SantaSplash
@combatstress
When you sign up, you can join our Facebook group and share top tips with others taking part. Sharing your Santa Splash photos or videos on Facebook, Twitter and Instagram is a great way to let everyone know you're taking part in Santa Splash so they can support you and we can thank you.
Be a part of our community and use the hashtag #SantaSplash @combatstress to raise awareness.